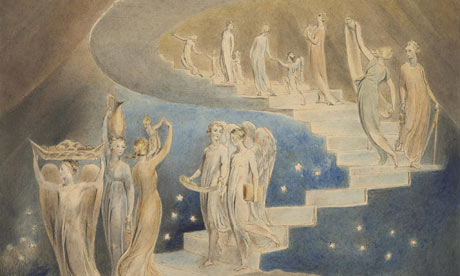 William Blake was overlooked in his lifetime, only to come to define British Romanticism long after his death. During life, he struggled to achieve recognition. One great labor towards acknowledgment was his largely ignored exhibition in 1809.
Consisting of sixteen works, both oils on canvas and watercolors, Blake's exhibition was held in cramped quarters in the room above his brother's shop in Soho. Very few visitors came, even his friends disliked the pictures. The only printed review of the display was vehemently negative. Nothing sold, and Blake lost a good deal of faith in his abilities.
What was it about these works that made them so unpopular two-hundred years ago? And can these works be read for clues which point to Blake's later canonization as one of the major figures of British fine art?
In a display currently on view at Tate Britain, the 1809 exhibition is recreated. Ten of the sixteen works are hung with Blake's own commentary. Missing works are still given space in the form of white squares painted directly on the wall (an unnecessary, lovingly neurotic move on behalf of serious scholarship).
Looking at the works, it is clear to see how Blake's paintings may have been unpopular. They are dark, forboding, difficult to read. His fantasies read like horrors, and the horrors are doubly dark. His watercolors, however, are as phantasmagoric as ever. They contain multitudes of magic.
I will never forget a study session led by Lee Edwards when she took our British Art class at Sarah Lawrence to the prints and drawings room at the Yale Center for British Art. Armed with white gloves, we were able to really see Blake's watercolors. For such a light material, he manages the colors with incredible weight. If ever given the opportunity, it is always worthwhile to see Blake watercolors-- there is nothing else like them.
Tate Britain's re-staging of the 1809 exhibition is a bold move, an admirable academic gesture. And though it is not complete, the remainsing ten works do a fine job of illustrating just how Blake may have been recieved in his lifetime.
Blake's 1809 Exhibition is at Tate Britain (Room 8) until October 4, 2009.